About Nick Ivanovich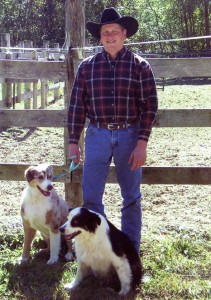 I have been around horses from a very young age.
Before starting my own training operation at Circle N in 1990, I worked for a number of large training and breeding farms. I worked with the horses on a daily basis then, as I do now. Over the course of my 25 years with horses, I have worked with many, many hundreds of horses and riders, covering many disciplines. I have been lucky enough to work in all areas of the horse business, from training, to retraining, to young horses, to breeding, to shoeing, to working to rehabilitate injured horses and nurse sick horses alongside their vet, to correct feeding and management. I believe it is those countless horses that have taught and continue to teach me my craft.
---
About Lindsey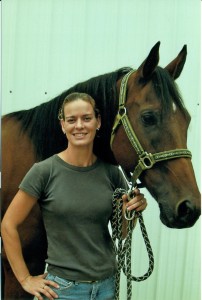 Our first horse was given to my family when I was 7 years old. Since that point, I can't imagine life without them. So, needless to say, I was thrilled when I got a job here in the Fall of 2004. You might also say it was a little ironic as we had sent my horse Splendor to Nick for training as 3 year old. He is 17 now and we have been to fun shows, done some cattle working and recently competed in a couple of endurance races.
Here's what Lindsey has to say about Nick's training: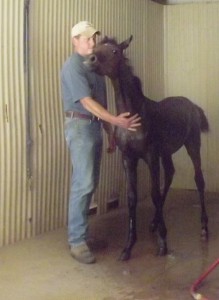 "A prime example of what can be accomplished is a 3 month old Arabian filly boarded here. Because she has never had a bad experience with people she naturally trusts them and only associates them with good things. She is not yet halter broke, but can be led by hand, has been clipped, hosed off and had her feet trimmed with minimum difficulty. She was not imprinted, only handled consistently with consideration towards building a foundation that will continue to make training in her future so much easier than when these simple steps have been neglected.
Circle N Horse Training is all about custom care and versatility. Your horse is handled as a unique individual instead of being put through the ropes of any inflexible routine. Because Nick has had experience and success in such a variety of disciplines, jumping, western pleasure, dressage, working cattle and gaited horses to mention a few, he is able to maximize your horse's potential in any given area."
---
About Ashley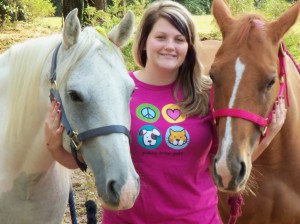 I have worked for Nick for the past 5 years. I have grown up around horses and purchased one of my own about 5 years ago. I am going to school to be a Veterinary Technician and I will graduate in May 2012. I am hard working and like to get the job done!
Here's what Ashley has to say about Nick's training:
Nick has helped me to understand about everything there is to know about horses and I believe he is the most awesome and most patient person to work for and with. I have gained a lot of confidence working with Nick and I apply that daily.
Clearwater Jack is a Percheron who was brought to Nick because he did not know anything. He was very timid and shy. He was a gentle giant, so to speak, but he was also very scared and the slightest movement would send him running. When we first got him, it took us a while to get him off the trailer. Then it took a while to get him into a stall. He wasn't sure of anything, the feed bucket even scared him. It took a few weeks and he was doing so well. You could throw the hay and grain in his stall or lead him without him spooking over it. Within a few months he was being ridden. We would lead Nick around a few times, just so Jack got the hang of it, then Nick was riding without any assistance. This horse took a lot of patience and trying new things. The owners were very pleased.
Dixie is a 7 year old Quarter Horse. At first she was timid and it would take about an hour to catch her out in the field. Her previous owner tried to ride her and was thrown, breaking several ribs. That's when she was brought to Nick's facility. Nick began working with her. Nick finds the problem and works with the horse very patiently. It took a few months and she was a completely new horse. Now her owner can walk right up to her wherever she is, halter her with no problem and lead her around without a fight. He now rides her bareback with just a halter and lead rope. She is wonderful in the arena out in the field and even on the trails.
Faith is an Aglo-Arab mare who was brought to Nick's for training. She has some pretty extreme cycles and can be a handful for anyone during these times. At first, she would come barreling out of the stall, when you first opened it. After a few days, she realized she wasn't able to do that anymore. She is a very quick learner. Nick has been very patient with her, especially when she is having her off days. When he is riding her, she tends to get upset being away from the other horses, so he works with her little by little, until she is at ease. The owner is now riding her as well and doing great. She has come along nicely and will do great in the future.
To view customer testimonials click here!